On a semi regular basis, when conditions allow, we foster, re-home and adopt companion animals in need. Over the years we have been a temporary or permanent home for dozens of cats and seven horses. See current adoptables here.
Please see the donations page to donate to the TNR (trap, neuter, release) fund. Note "TNR" on your donation. Each animal served costs a minimum of $35 – $50, depending on the clinic, for a low cost sterilization and basic vaccines. This does not include food, litter, transport, testing for FELV, or the cost of special care. Our average cost for the Kimono/Kendall colony was $74/cat.
Kimono/Kendall TNR
With the generous support of many of you, we are currently in the process of trapping, neutering & returning dozens of free roaming area cats. Veterinary care, as with human medical care, is difficult for many to afford. Low cost spay and neuter clinics have long wait times. Combine this with a farm culture that does not see domesticated cats as needing human assistance, and the result is large amounts of feline suffering as these animals face an inhospitable world, largely on their own. Our nearest neighbors have done a lovely job of feeding and sheltering a large number of area outdoor cats, but they do not have the means of providing sterilization. With unfettered reproduction, the numbers of suffering animals will only increase. With numbers at this level, we feel we must step in now to try to ease the situation. Most of these cats are not socialized to humans and the kindest thing we can do is sterilize them and release them, providing auxiliary shelters and food where we can. Some of them are friendly however – Please scroll down for adoptable kitties.
As of December 22nd, 2020 we have been able to trap, sterilize and provide basic vet care to 23 cats. Five youngsters were taken in by Tabby Town of Westby for adoption placement. One elderly kitty has found a home inside at Kevala (Cloud), another has been adopted (Oslo). One additional highly adoptable adult (Buddy) is receiving veterinary care and will be adoptable soon. The remaining fifteen have been returned for continued outdoor care.
Huge thanks to Dr. Jan Doelle and Linda Viska of Winona, MN for their tireless devotion to spaying and neutering as many cats in need as they possibly can, to Spay Me Clinic of Madison for offering excellent low cost services, to Northside Veterinary Clinic of Tomah Wisconsin for providing necessary special medical attention and making FELV/FIV testing convenient, and to Dr. Jennifer Malin for offering unending tele-health and long distance veterinary consultation. Thank you to Inese Epstein and Nancy Herrens-Knudson for driving van loads of kitties to & from their procedures, to Sparta TNR, Tabby Town of Westby, & Chasing Daylight of Tomah for their excellent coaching and advice, and to Tabby Town for shepherding the smallest kittens to their forever homes. And last but not least, thank you to all of you who donated necessary dollars to fund the care of this colony! They, and we, are forever grateful. We'll continue in the spring to assess nearby colonies and to offer the help we can.
Adoptable Companions
Please see our adoption application, if you would like to offer one of these deserving kitties a permanent home! All adoptable kitties have been sterilized, vaccinated, wormed, treated with flea & mite protection, and tested for FELV/FIV. Our basic adoption fee is $50 for adults & $100 for kittens, which is waived if you have already donated to the TNR fund. Kittens too young to be sterilized will not have full custody released until proof of sterilization is returned to Kevala Retreat. At that time $75 of the adoption fee will be returned, and full custody will be released. Proof of sterilization must be returned before the kitten is 24 weeks old.
---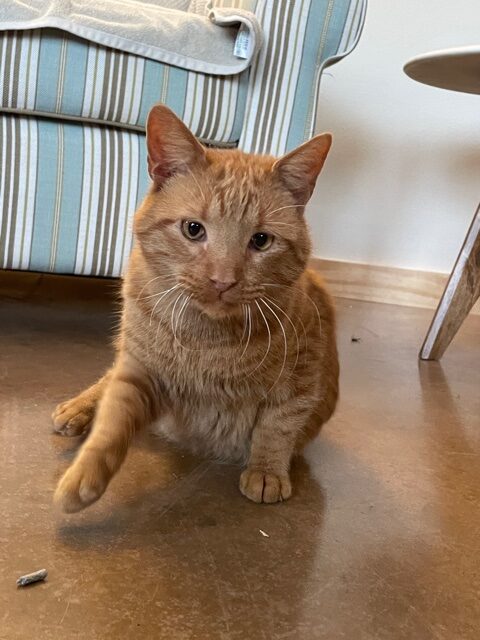 Buddy is thought to be around two years old and is an absolute cuddle bug. Nothing makes him happier than a lap to snuggle on and a belly rub. He eagerly comes to greet his human caregiver with soft trilling meows and affectionate rubs. He was in rough shape when he was brought inside, with a life threatening respiratory infection. He is currently being held to complete his veterinary care and monitoring, but should be good to go at the end of January.
Buddy is wonderful with other cats, and seeks out their company. He wrestles with others gently but enthusiastically, and persistently but politely attempts to make friends, even with grumpy playmates. He would be happiest in either an indoor, or an indoor/outdoor home. He is often a quiet, restful guy, but also has a strong play drive and can be hilarious in his choice of toys, prefering to make do with common household items. Cleaning sponges and full rolls of toilet paper are some of his favorite. Some care is required with personal belongings as he will carry away most anything he can pick up with his mouth, including cell phones. He also greatly enjoys paper bags, and squeezing himself into the tiniest box available. He enjoys run/chase games with humans and other cats. His very favorite thing is a good cuddle with humans. He is one of the most personable and loving cats you'll ever meet. Buddy's lucky adopter will have a steadfast companion for life. His sweet, soulful ways will tug at your heart strings! Apply to adopt Buddy here.
---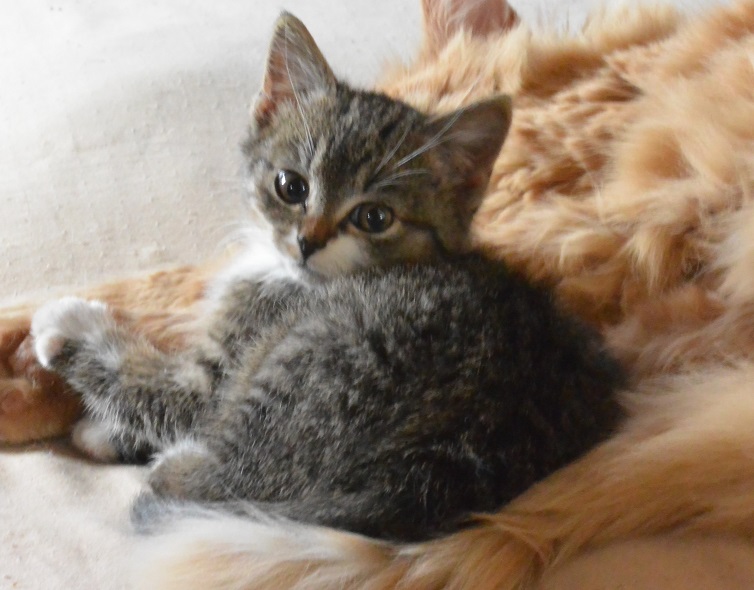 HYDI HAS BEEN ADOPTED! Hydi is an absolutely adorable, tiny little guy, born around the first of November. He wandered out of the woods at about four weeks of age and presented himself at the front door of his carer's cabin. He has been fostered in place while receiving special care for his young age, and is now old enough to be adopted. Hydi loves his foster brother cat. He would like to live in an indoor home where he has another cat for companionship, or where the humans are home a lot to help keep him properly cuddled and entertained.
Hydi is not a Kevala Retreat cat, but is being posted as a service to Hydi and his carer. His neuter, vaccines and FELV/FIV testing are not complete but are pending. You can still apply to adopt him using the Kevala Retreat adoption application. Fees and logistics of his care will be worked out with his carer.
---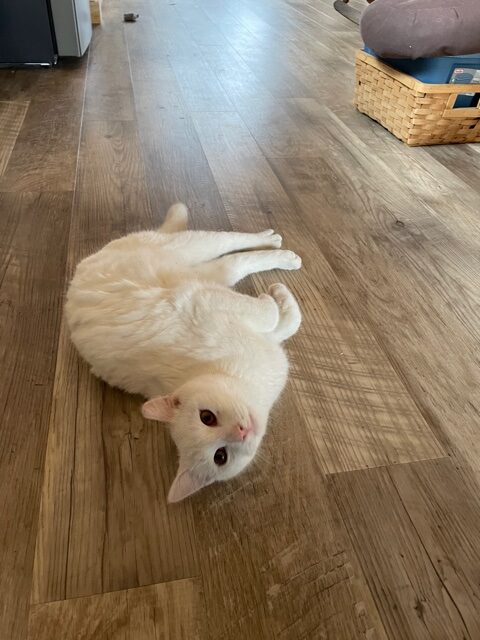 OSLO HAS BEEN ADOPTED! Oslo is an adorable, active, curious character who appreciates companionship. He provides hours of entertainment with his clownish ways. He loves to be by the side of a human, and actively seeks out company. He can be talkative, but has the softest, sweetest voice. He plays gently and purrs loudly. He gets along very well with other cats and is persistent but gentle in his attempts to make friends with them. He should do well with children and dogs if they are gentle and respectful. Oslo has the initial wariness with each new human that many cats born in an outdoor colony show. His basically confident personality allow him to gain trust quickly however. Once he knows you, he is highly social and affectionate. Since he prefers lots of socialization he would do best in a house with another cat, or where the humans are home at least a moderate amount of time. Oslo is eight months old (born April 2020).